Jalan Masih Mendaki
April 11, 2018
Pengalaman merupakan pelajaran terbaik dalam meniti kehidupan
Menapaki Satu Dasawarsa SD Muhammadiyah Kriyan
Menjadi Sekolah Unggul dan Berkemajuan
Penulis :
Akhmad Faozan, S.Ag, M.Pd
Editor dan Layout :
Ahmad Burhan, S.Pd.I
Penerbit : 
SD Muhammadiyah Kriyan Kalinyamatan Jepara Press
38 halaman, April 2018
Kata Pengantar
Mendirikan Sekolah Sebagai Salah Satu Ikhtiar Membangun Peradaban
Amal Usaha Muhammadiyah (AUM) dalam bidang pendidikan adalah salah satu amal usaha yang menjadi titik fokus  dalam mengusahakan terwujudnya komunitas kader muslim militant berkemajuan.  Cirikhas dari AUM Pendidikan diantaranya adalah selalu bergerak menuju kepada suatu tujuan jelas yaitu terbangunnya peradaban utama berlandaskan Qur'an dan Sunnah. Dalam konsepsi al Quran hal ini biasa disebut dengan baldah thayyibah warabbun ghafur. Istilah arab ini bila diterjemahkan secara bebas mempunyai makna, negeri yang goodgovernance, bertabur mahfirah dan mendapatkan kucuran keberkahan dari langit.
Pimpinan Cabang Muhammadiyah Kalinyamatan berusaha sungguh-sungguh menata ikhtiar untuk menelurkan kader impian melalui lembaga sekolah formal. SD Muhammadiyah Kriyan Kalinyamatan adalah salah satunya. Amal Usaha yang satu ini dimiliki oleh Pimpinan Cabang Muhammadiyah Kalinyamatan dalam bidang Pendidikan  selain TK, SMP, bidang ekonomi dan program filan tropis yang melekat dengan masyarakat bawah.
SD Muhammadiyah Kriyan yang baru muncul ditengah-tengah hegemoni perkembangan Ilmu pengetahuan dan teknologi memiliki peran sangat strategis. Saat ini perkembangan IPTEK kemudian berbagai macam budaya "asing" sungguh tak mudah untuk membendungnya. Langkah-langkah antisipatif dalam menghadapinya masih belum terasa massif. Justru masyarakat awam menilai kalau kita seakan sedang dijajah otak kita, mindset kita diarahkan menjadi masyarakat penikmat bukan produsen.
Hal ini bisa terjadi  karena spiritualitas dari sebagian besar masyarakat kita yang lemah dan didahului  dengan cepatnya pengaruh IPTEK dengan perubahan sosio kultur masyarakat yang kian mengalahkan karakteristik atau watak asli Jawa atau Indonesia. Daya dobrak dari dalam internalmakin rapuh dankering seakan menjauh dari kultur kejawen dan Keindonesiaan. Hampir semuanya serba instan, menerabas tanpa harus memperhatikan kanan dan kirinya. Inilah kondisi nyata di sekitar kita. Anak-anak sekolah dominan bukan konsentrasi pada sekolahnya, namun disibukkan dengan tuntutan kelulusan berbasis UNBK.
Kegiatan Belajar Mengajar yang kurang fun akan dijauhkan dari anak-anak. Inilah tuntutan keadaan. Kondisi inilah yang menuntut seseorang untuk harus terus meng-update diri. Namun bila landasan dan jati dirinya masih lemah makakekuatan dalam dirinya akan bias dan terbawa arus zaman yang semakin garang melahap masa depan generasi mudah.
Akankah peradaban dunia akan cepat berakhir tergantikan dengan generasi yang berotak dan bertopeng bak Robocop? Ini adalah tantangan dan peluang bagi komunitas yang bermodal spirit kuat. Maka beruntunglah masih ada yang sangat care dengan kondisi dan mau berbagi (share) idealis yang dimiliki oleh beberapa tokoh atau sesepuh ranting Muhammadiyah Kriyan dan Puwogondo —mereka adalah H. Rusdiyono, H. Abdur Rochim, H. Suyono— untuk membangun peradaban mini di Jepara khususnya di Kecamatan Kalinyamatan ini.
Ide dan gagasan beliau-beliau ditangkap oleh bapak-bapak Pimpinan Cabang Muhammadiyah Kalinyamatan dan PCM menuangkan dalam bentuk keputusan Musyawarah Cabang di saat itu, maka terwujudlah sekolah dasar bernama SD Muhammadiyah Kriyan yang pada saat itu gedungnya pinjam sementara di Madin Islamiyah Muhammadiyah (MIM 1) Kriyan karena gedung baru sebagai proyeksi tempat SD Muhammadiyah Kriyan ke depan yang terletak di komplek Masjid Taqwa Kriyan Kalinyamatan Jepara belum jadi. Legalitas formal SD Muhammadiyah Kriyan secara resmi diakui oleh pemerintah setelah mengantongi ijin dari Kepala Dinas Dikpora Kabupaten Jepara pada tanggal 20 Juni 2008, sehingga praktis tahun ajaran 2008/2009 sebagai tahun ajaran pertama dan mendapatkan kepercayaan 6 orang siswa.
Kegiatan belajar mengajar berjalan sangat spesial karena 6 orang di damping oleh tiga orang pemangku amanah  satu orang sebagai kepala sekolah yaitu bapak Rozak Tanjung, dan 2 orang full time mendampingi anak dalam proses belajar mengajar, yaitu ibu Muntiasih, S.Pd dan Nurul Amaliyah, S.Pd. Alhamdulillah tahun kedua jumlah siswa menjadi 31 anak dan kepala sekolah digantikan oleh Akhmad Faozan yang saat itu harus melepaskan jabatan sebagai guru tetap di salah satu yayasan.
Kini SD Muhammadiyah Kriyan Kalinyamatan sudah menapaki usia yang dewasa yaitu sepuluh tahun dan saya sebagai kepala sekolah sudah dua periode dalam memimpin, mengkoordinasikan program-program kepada kawan-kawan seperjuangan. Dua periode ternyata waktu yang seakan singkat dan sempit. Idealnya sepuluh tahun sudah bisa membidik dan memproyeksikan output atau pun outcome ke depan.
Dari jumlah siswa yang tahun pertama hanya 6 siswa kemudian tahun berikutnya menjadi 31 siswa dan sekarang sudah 300 siswa. Update jumlah siswa ini merupakan raihan yang patut untuk terus berpacu diri dan terus mensyukurinya dengan taqarrub kepada ilahi.Trend meningkatnya jumlah siswa sebagai pertanda kalau sekolah yang satu ini sudah mulai terbangun kepercayaan(trust)dan menjaganya dengan melayani mereka (customer) dengan sebaik-baiknya, bukan minimal tetapi maksimal dalam pelayanan.
Dilihat dari prestasinya, SD Muhammadiyah Kriyan sudah mengantongi berbagai prestasi akademis maupun non akademis. Yang akademis bidang OSN sudah mulai menembus tingkat Kabupaten, bahkan KMNR yang diselenggarakan oleh KPM sudah mampu sampai jenjang final. Kegiatan yang non akademis jauh melampaui target, dengan raihan tertinggi adalah dalam bidang pencak UNS Open lomba silat fight IPSI Jateng mampu menyabet emas. Dongeng berbahasa Jawa mampu juara kedua Kabupaten dan juara-juara lain yang kurang bijaksana bila dituangkan disini semuanya. Paling tidak inilah update SD Muhammadiyah Kriyan semakin termotivasi untuk terus berpacu memperbaiki system pembelajaran berbasis life skill dan pengelolaan ekstrakurikuler yang lebih baik.
Pilar kerjasama dalam membangun sekolah sudah tertancap dengan kuat, pilar sekolah, orang tua dengan difasilitasi komite dan forum wali siswa, serta pilar masyarakat yang terus terbangun dengan berbagai kegiatan berbasis kerja sama. Maka kelak akan semakin terbangun saling memberikan manfaat demi terwujudnya komunitas yang terjaga kebaikan atau kemaslahatan.
Para Dewan guru, asatidz dan asatidzah serta seluruh warga sekolah sudah mulai merasakan atmosphere itu. Peluang dan tantangan ke depan menuntut para pemangku amanah khususnya dewan guru atau asatidz untuk terus mereposisi diri, terus mengupdate informasi membuat terobosan dan inovasi dalam menemukan metode mengajar yang tepat guna dan manfaat. Sungguh Indonesia ke depan menggantungkan kepada guru, bagaimana guru mengajar, mendidik dan mendampingi belajar anak-anaknya?
Belum lagi nuansa qur'ani yang mulai menjadi basis dalam membangun karakter. Peningkatan kualitas bacaan qur'an (tahsin), jumlah ayat dan surat yang menjadi target hafalan. Ciri khas sekolah muhammadiyah sangat lekat dengan konsepsi perjuangan Kyai Dahlan dalam membangun lembaga atau sekolah Muhammadiyah. Inilah sekolah Muhammadiyah yang sangat identik dengan jiwa berkemajuan. Maka SD ini tidak sebatas menuntut target berapa jumlah ayat atau surat yang sudah dihafal, sudah seberapa besar prosentase pencapaian target kurikulum, namun akan lebih bernilai manakala sekolah ini lebih menekankan pada penemuan jati diri seorang anak, sadar akan jiwa fight, from zero to be hero, dari anak yang tidak tahu apa-apa menjadi seorang yang pantang menyerah dalam menghadapi kehidupan yang serba kompetitif.
Semakin hari anak semakin terfasilitasi dengan program unggulan sekolah, mulai dari Field Trip sampai dengan tahfidz dan tarjim Al Quran. Sungguh ini adalah bagian dari pesan optimisme yang terus terpelihara dalam dada. Spirit dalam mendominasikan pada atmosphere akademis yang terus diprogramkan dengan muatan sarat silaturrohim dan membangun jaringan.
Itu semua masih dalam kerangka ikhtiar yang berusaha maksimal namun sebagai seorang kepala sekolah yang sadar betul akan keterbatasan dalam melangkah, akselerasinya apalagi belum terasa. Ibarat bendera sudah mulai berkibar ke atas dan petugas pengibar baru menjalankan pengerekan sebatas ditengah-tengah. Tugas berikutnya adalah menjaga dan meningkatkan stabilitas karena terpaan angina semakin kencang.
SD Muhammadiyah Kriyan dengan berbagai potensi dan peluang tetap harus terjaga visi jauh ke depan yang sangat bersinggungan dengan visi Muhammadiyah. Peradaban utama adalah visi jauh ke depan dan Muhammadiyah mempunyai idealisme tinggi dalam mewujudkan peradaban utama. Tidak ada sarana yang tepat dalam mewujudkan peradaban itu  selain lewat lembaga pendidikan.  Begitu banyak sekolah bermunculan, namun belum menyentuh ke akar persoalan regenerasi. Maka kiprah sekolah muhammadiyah sangat dinanti masyarakat luas di zaman now.
Bila dilihat dalam sejarah sekolah muhammadiyah yang dikembangkan oleh Kyai Dahlan pada saat itu adalah sekolah yang sangat ideal. Strategi pengembangan lembaga pendidikan dengan mengadopsi model barat namun tidak mengurangi nilai dasar ke-Islam-an. Inilah model pengembangan sekolah muhammadiyah dengan memberikan peluang untuk menjalin bekerjasama.
Link Download di sini
Anda Mungkin Suka Juga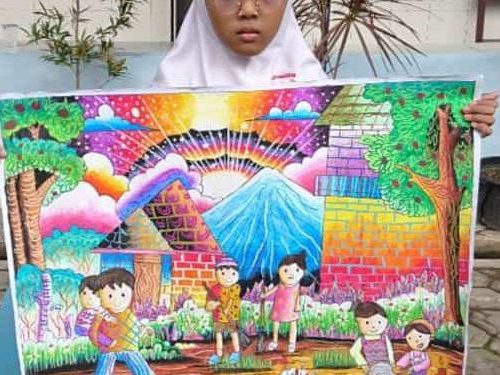 Februari 16, 2021